Al Shaqab's Hariry Al Shaqab wins World Platinum Champion in Salon Du Cheval De Paris 2019
Publication Date:

04/12/19

Category:

Breeding & Show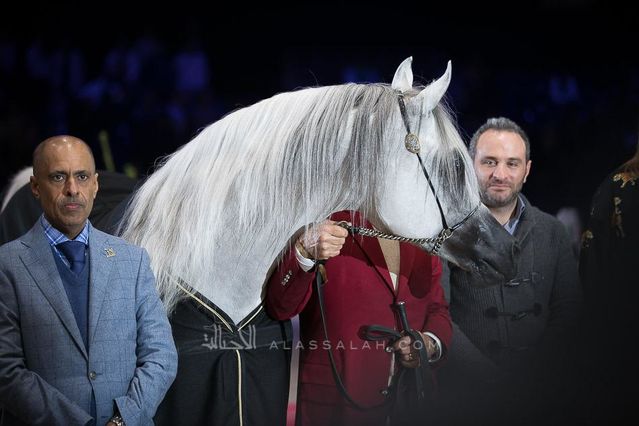 Second consecutive year that offspring of legendary Marwan Al Shaqab wins prestigious title Hariry Al Shaqab, representing Al Shaqab, member of Qatar Foundation, earned the title of World Platinum Champion at the World Arabian Championship – the prestigious Salon Du Cheval De Paris 2019.

The event was held from November 29 to December 1, in France.Participation in the show was limited to horses that had won notable awards at international horse shows earlier in 2019.
The victory by Hariry Al Shaqab, a former World Stallion Champion, follows the win by Kahil Al Shaqab in the same category last year. Both Hariry Al Shaqab and Kahil Al Shaqab were sired by the legendary stallion, Marwan Al Shaqab. .
The son of Gazal Al Shaqab, Marwan Al Shaqab has been a jewel in the crown of Al Shaqab and continues to be an ideal representation of Al Shaqab and Arabian horses of Qatar. Although only a comparatively young stallion, the sons and daughters of Marwan have already established him as the most influential stallion of his generation.
Hariry Al Shaqab's crowning as World Platinum Champion at the World Arabian Championship – Salon Du Cheval De Paris 2019, and his brother Kahil's title win last year, highlights the pedigree of Marwan Al Shaqab and the strength of Al Shaqab's breeding program.


Sheikh Hamad bin Ali Al Thani, Manager of the Breeding & Show Department at Al Shaqab, received Hariry Al Shaqab's prize on behalf of Al Shaqab.
Back to News listing
DISCOVER
AL SHAQAB
AL SHAQAB AIMS TO PROVIDE AN EDUCATIONAL AND CULTURAL EXPERIENCE TO ALL PERSONS IN QATAR.