ExxonMobil Qatar Extends Partnership with Al Shaqab for Five Years
Publication Date:

02/11/21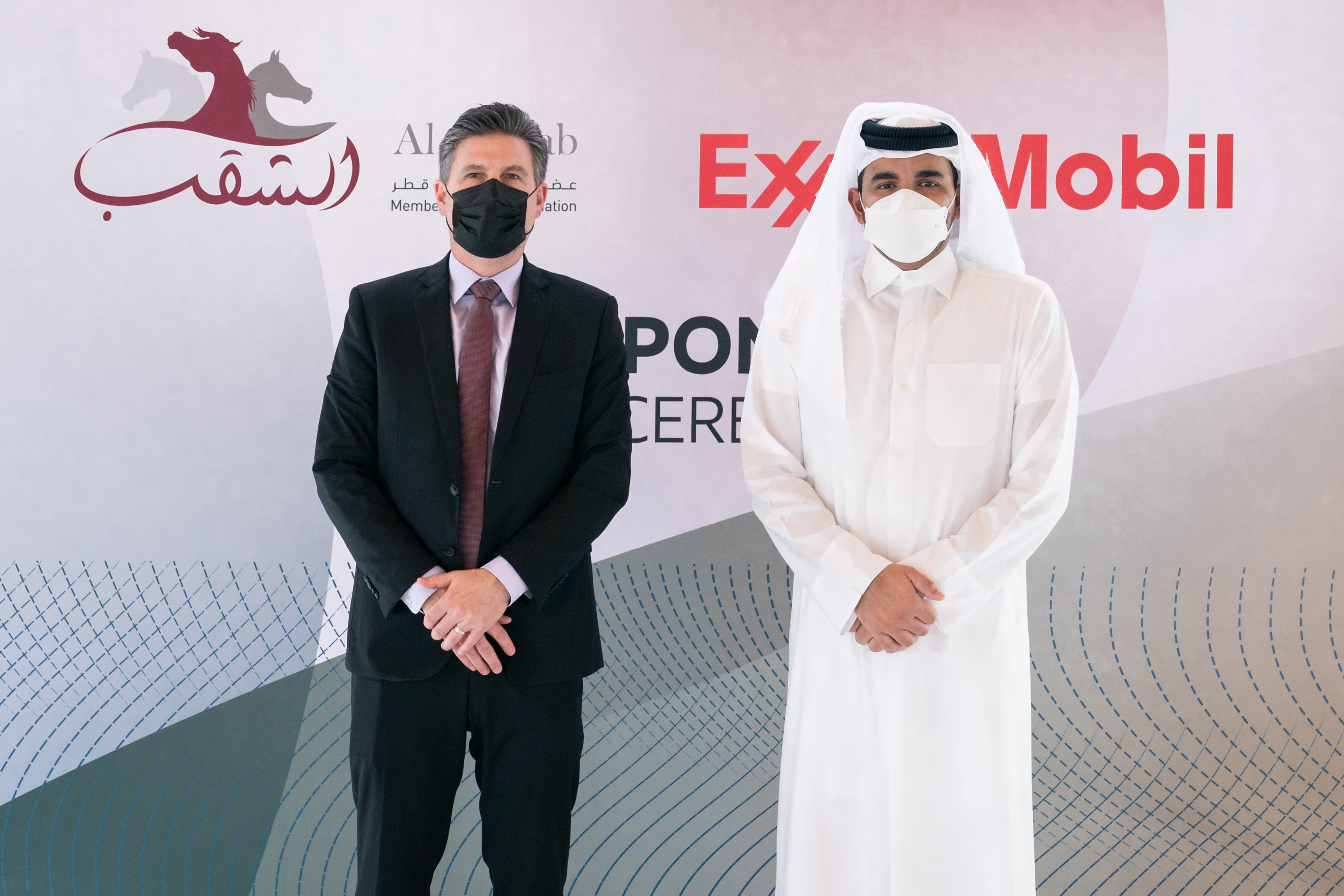 ExxonMobil Qatar has been the main sponsor of CHI Al Shaqab and a supporter of the Al Shaqab's programs since 2013. It is an important part of ExxonMobil Qatar's goal to help advance education in Qatar and create learning environments for students that are inspiring and engaging, and that develop leadership skills beyond the classroom.
"ExxonMobil is proud to extend its partnership with Al Shaqab and support for its outstanding facilities and events that are internationally recognized in the equestrian world," said Dominic Genetti, ExxonMobil Qatar's President and General Manager.
"Horses are beloved and embraced in Qatar, and hold a cultural significance for the local community – we're honored to help continue the traditions associated with them through our long-standing partnership with Al Shaqab. Driven by the human development pillar of the Qatar National Vision 2030 and our commitment to educational development, we're also pleased to support Al Shaqab's programs to provide an engaging learning environment for aspiring riders," he added.
"I would like to thank ExxonMobil Qatar for its strong partnership over the years, and for extending its support for our work and mission for the next five years," said Mr. Khalifa Al Attiya, Al Shaqab executive director. "We're proud to have created a successful environment at Al Shaqab in which to enhance and celebrate equestrian sport, and with the help of our valued partners, we're pleased to be developing a world-class destination in Qatar to showcase equestrian events," he added.
ExxonMobil Qatar's association with Al Shaqab falls under the umbrella of an established partnership with Qatar Foundation (QF) that first began in 2010. In 2020, ExxonMobil and QF took this partnership to a new level with an agreement that was built on their decade-long relationship, a shared vision for long-term sustainability, and a commitment to helping fulfil the objectives of the Qatar National Vision 2030.
ExxonMobil Qatar's projects and initiatives with QF include: The World Innovation Summit for Education (WISE), Education Above All, Pre-University Education Center, and Your Health First, among others.
###
Al Shaqab – A World-Class Facility
Since its establishment in 1992, Al Shaqab's vision was to build on Qatar's Arabian horse heritage and be a leading global center for equine professionals, while providing an engaging experience for the community. Global leadership has not only meant preserving, improving, and promoting the Arabian horse breed, but also encouraging the community in this unique, traditional cultural sport.
Today, Al Shaqab's impressive facilities, which are distinctively designed in the shape of a horseshoe, cover 980,000 square meters. With a state-of-the-art Main Arena comprising both an indoor and outdoor venue capable of holding over 5,000 spectators, Al Shaqab is part of Qatar's growing reputation on the world stage that showcases its ability to host major international sports event at the highest level.
For further details please visit www.alshaqab.com
Qatar Foundation – Unlocking Human Potential
Qatar Foundation for Education, Science and Community Development (QF) is a non-profit organization that supports Qatar on its journey to becoming a diversified and sustainable economy. QF strives to serve the people of Qatar and beyond by providing specialized programs across its innovation-focused ecosystem of education, research and development, and community development.
QF was founded in 1995 by His Highness Sheikh Hamad bin Khalifa Al Thani, the Father Amir, and Her Highness Sheikha Moza bint Nasser, who shared the vision to provide Qatar with quality education. Today, QF's world-class education system offers lifelong learning opportunities to community members as young as six months through to doctoral level, enabling graduates to thrive in a global environment and contribute to the nation's development.
QF is also creating a multidisciplinary innovation hub in Qatar, where homegrown researchers are working to address local and global challenges. By promoting a culture of lifelong learning and fostering social engagement through programs that embody Qatari culture, QF is committed to empowering the local community and contributing to a better world for all.
For a complete list of QF's initiatives and projects, please visit: www.qf.org.qa
About ExxonMobil
ExxonMobil, one of the largest publicly traded international energy companies, uses technology and innovation to help meet the world's growing energy needs. ExxonMobil holds an industry-leading inventory of resources, is one of the largest refiners and marketers of petroleum products, and its chemical company is one of the largest in the world. To learn more, visit exxonmobil.com and the Energy Factor.
Follow us on Twitter and LinkedIn.
Back to News listing
DISCOVER
AL SHAQAB
AL SHAQAB AIMS TO PROVIDE AN EDUCATIONAL AND CULTURAL EXPERIENCE TO ALL PERSONS IN QATAR.