Marcus Ehning Soars To Sensational Victory In Gripping Grand Prix Jump Off At Commercial Bank CHI AL SHAQAB Presented by Longines 2022
Publication Date:

27/02/22

Category:

CHI Al Shaqab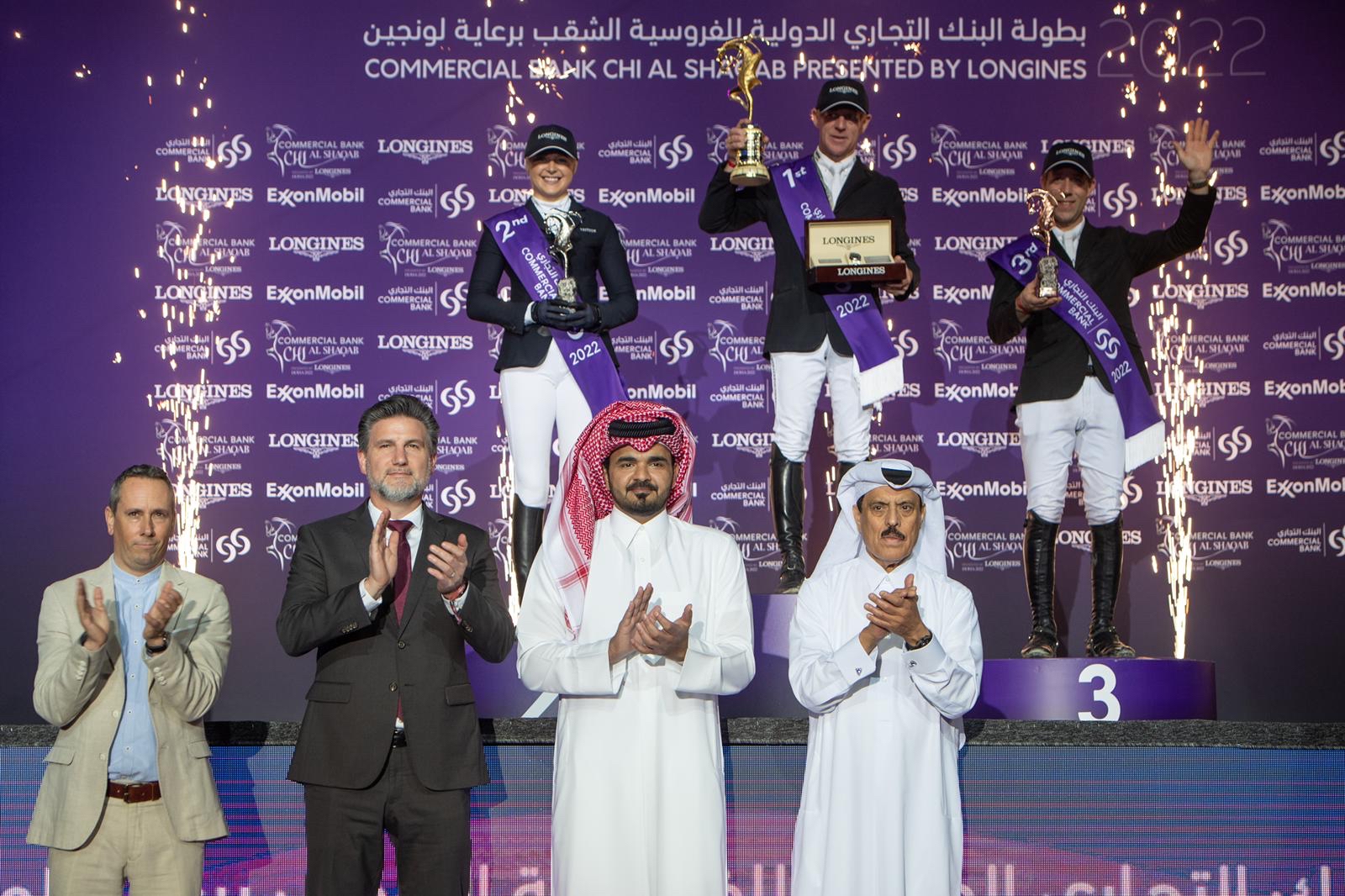 The dazzling duo produced a majestic performance in the climactic CSI5* Showjumping Grand Prix two rounds and jump-off (1.60m), which brought the scintillating Doha event to a close. They had the crowd on their feet and roaring their support at the Longines Arena at Al Shaqab, clocking a faultless 33.98 secs in the dramatic 6-rider jump-off to claim victory and the ultimate prize.
Evelina Tovek, of Sweden, on Winnetou de la Hamente Z, rode into a superb second place in 36.51 secs., while Maikel van der Vleuten, representing the Netherlands, finished third on Beauville Z, in 36.73 secs.
Belgium's Harrie Smolders, on Bingo du Parc, Sweden's Henrik von Eckermann, riding King Edward, and Jur Vrieling, astride Long John Silver 3, finished fourth, fifth, and sixth, respectively.
The winners were awarded by H.E. Sheikh Joaan Bin Hamad Al Thani, Chairman of the Commercial Bank CHI AL SHAQAB Presented by Longines Supreme Organizing Committee, and President, Qatar Olympic Committee.
An ecstatic Ehning, who won gold at the 2000 Sydney Olympics said: "From the start, it was an incredible feeling and that made it very easy for me. Stargold is a very fast horse, but I knew from the way it was going that this is something that only happens maybe once in every 20 years, and it was one of the best jump-offs in my career. I'm really, really proud of my horse. And I really love this show. I have been here every year, and every year I look forward to coming back. The facilities for the horses are amazing."
The opening event of the final day, the Dressage CDI5* Grand Prix Special, saw Tommie Visser, of the Netherlands, put in an exceptional performance on Genesis Begijnhoeve to take first place. Belgium's Charlotte Defalque, on Botticelli, placed second, and Jill Hollweg-de Ridder, of Germany, riding Whitney, finished third. Local favorite Wejdan Majed Al Malki again had fans hanging on her every move on Mango Jacaro, after her history-making appearance on the second day as the first Qatari dressage rider to compete in five-star competition. Al Malki, who is training towards qualification for the 2024 Paris Olympics and future World Cups, was presented with a special award during the event, in recognition of her groundbreaking achievement.
In further dressage action, total precision combined with pure elegance and flair carried the combination of Finland's Henri Ruoste and Kontestro DB to first place in the CDI5* Dressage Grand Prix Freestyle. Sweden's Patrik Kittel, astride Touchdown, took second spot, following on from his CDI 5* Grand Prix Test victory yesterday. Hans Peter Minderhoud, of the Netherlands, rode Glock's Dream Boy N.O.P. to third.
A delighted Ruoste said "Everything just came together here tonight. Conditions at the Longines Arena at Al Shaqab are perfect for both riders and horses. Weekends don't get much better than this! A big thank you to the organizers."
Earlier in the day, chasing glory in the CSI5* 1.50m Showjumping Faults and Time Class, Simon Delestre, of France, on Dexter Fontenis Z, secured an exceptional victory in 58.91 secs. Sweden's world number one, Peder Fredricson, on Hansson WL (SWB), clinched second place in 58.97 secs, while Philipp Schulze Topphoff, on Clemens de la Lande, with a time of 59.34 secs, completed the winners' podium in third place.
Jens Lasse Dokkan of Norway won the (Grade I) category of the Para Dressage CPEDI3* Freestyle Test, with winners of other categories being Loes Cevaal, Netherlands Grade II), Lotte Krijnsen, Netherlands (Grade III), Rodolpho Riskalla of Brazil (Grade IV) and Kevin van Ham of Belgium (Grade V).
The para dressage athletes were not only unanimous in their praise of Al Shaqab's fabulous facilities, but also of the high visibility given to their discipline at the amazing event, as they believed it could inspire others to take on their physical challenges and try this incredible sport for themselves.
Organized by Al Shaqab for the ninth year, the 2022 edition of Commercial Bank CHI AL SHAQAB Presented by Longines saw 98 riders from 24 countries testing their limits in the Olympic disciplines of showjumping, dressage, and para dressage, in the strongest equestrian championship in Asia, and the first and only of its kind in the region.
ENDS//
Al Shaqab – A World-Class Facility
Since its establishment in 1992, Al Shaqab's vision was to build on Qatar's Arabian horse heritage and be a leading global center for equine professionals, while providing an engaging experience for the community. Global leadership has not only meant preserving, improving and promoting the Arabian horse breed, but also encouraging the community in this unique, traditional cultural sport.
Today, Al Shaqab's impressive facilities, which are distinctively designed in the shape of a horseshoe, cover 980,000 square meters. With a Main Arena comprising both an indoor and outdoor venue capable of holding over 5,000 spectators, Al Shaqab is part of Qatar's growing reputation on the world stage that showcases its ability to host major international sports event at the highest level.
For further details please visit www.alshaqab.com
Qatar Foundation – Unlocking Human Potential
Qatar Foundation for Education, Science and Community Development (QF) is a non-profit organization that supports Qatar on its journey to becoming a diversified and sustainable economy. QF strives to serve the people of Qatar and beyond by providing specialized programs across its innovation-focused ecosystem of education, research and development, and community development.
QF was founded in 1995 by His Highness Sheikh Hamad bin Khalifa Al Thani, the Father Emir, and Her Highness Sheikha Moza bint Nasser, who shared the vision to provide Qatar with quality education. Today, QF's world-class education system offers lifelong learning opportunities to community members as young as six months through to doctoral level, enabling graduates to thrive in a global environment and contribute to the nation's development.
QF is also creating a multidisciplinary innovation hub in Qatar, where homegrown researchers are working to address local and global challenges. By promoting a culture of lifelong learning and fostering social engagement through programs that embody Qatari culture, QF is committed to empowering the local community and contributing to a better world for all.
For a complete list of QF's initiatives and projects, please visit: www.qf.org.qa
For any media inquiries, please contact: pressoffice@qf.org.qa
Back to News listing
DISCOVER
AL SHAQAB
AL SHAQAB AIMS TO PROVIDE AN EDUCATIONAL AND CULTURAL EXPERIENCE TO ALL PERSONS IN QATAR.