Al Shaqab to Conduct Parents' Orientation Program
Publication Date:

03/09/19

Category:

Equine Education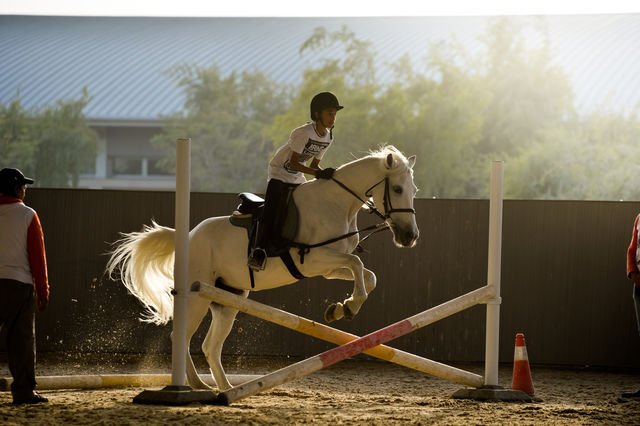 The Equine Education Department (EED) of Al Shaqab, member of Qatar Foundation, is hosting a Parents' Orientation Program to reintroduce the academic system for its riding academy. The event, which will be held on September 4 and 5, is being organized to apprise parents of the school's riders on the curriculum that will be followed.

Al Shaqab features a full-service Riding Academy equipped with the infrastructure to teach all levels from beginner to international level. The Orientation Program will be held at the Multi-Function Hall of the Al Shaqab Indoor Arena, from 5.00pm to 6.30pm, on both days. As part of the presentation, parents will be provided with a platform to understand the program, meet the instructors, and raise queries.
Equine education has been witnessing a growing demand in Qatar. Through its riding curriculum, it is Al Shaqab's objective that the lessons offered go beyond horse riding, to training its riders in the art of horsemanship.
Mohammed Sultan Al Suwaidi, Manager, Equine Education Department at Al Shaqab, said: "Al Shaqab is reintroducing the academic system for its Riding Academy. Right at the outset, we want to ensure that both - the parents and the riders, get a clear understanding of our academic system, the Code of Conduct, and other facets of our program. Additionally, the sessions will provide them with the opportunity to raise their questions and receive clarity on our curriculum and program."
The demand for riding lessons at Al Shaqab has been rising significantly over the years, and the world-class equestrian center conducts regular training sessions, with instructions being made available for all skill levels, starting with students ages six to 18.
Al Shaqab is passionately committed to nurturing and promoting Qatar's renowned equine legacy. Viewing equine education as a vital community asset, the center offers a diverse range of riding lessons, equine training, and equestrian camps, to educate and promote horsemanship.
Back to News listing
DISCOVER
AL SHAQAB
AL SHAQAB AIMS TO PROVIDE AN EDUCATIONAL AND CULTURAL EXPERIENCE TO ALL PERSONS IN QATAR.