Al Shaqab Conducts First Internal Competition of Academic Year
Publication Date:

07/11/19

Category:

Equine Education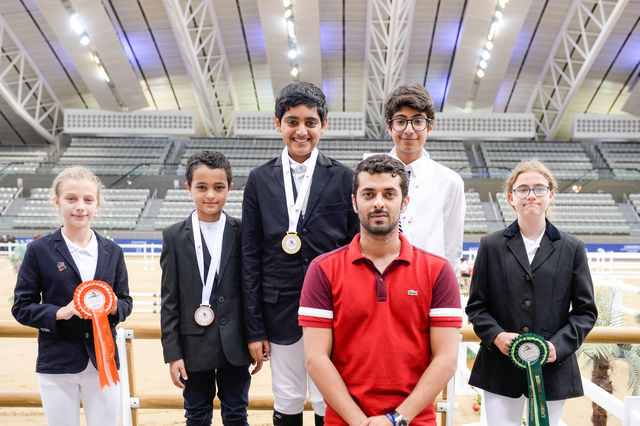 Student Riders compete in Olympic disciplines of showjumping and dressage

Al Shaqab, member of Qatar Foundation, has successfully completed the first Equine Education Department (EED) Internal Competition of the 2019/2020 academic year. The two-day event was aimed at encouraging and inspiring Al Shaqab's student riders. Students competed in the popular Olympic disciplines of showjumping and dressage.
The competition was open to student riders of all skill levels and was conducted in the Al Shaqab Main Indoor Arena. Al Shaqab's EED organizes four internal competitions every academic year as part of its curriculum-based equestrian education system.
The curriculum-based equestrian education offered by the Al Shaqab EED equips the students with skills to progress professionally. One of the motivating factors behind organizing internal competitions is to allow students to gain practical experience in competitions, display the skills that they have learned, and earn ranking points for their advancement to the next level of their curriculum.
Mohammed Sultan Al Suwaidi, Manager, Equine Education Department at Al Shaqab, said: "We aim to conduct periodic internal competitions during the school year, as they contribute significantly towards providing our student riders with much-needed experience and developingtheir confidence in competitions. The competition is open to all our students. As we evaluate the progress of our riders through these competitions, it also offers our student riders the opportunity to learn to compete with a true sense of sportsmanship."
Results of the First Al Shaqab EED Internal Competition of the 2019/2020 Academic Year:
SHOWJUMPING
Foundation Level 1 <0.8m
1st place: Faris Qarqash
2nd place: Abdulla Al Kabi
3rd place: Abdulla Al Fadala
Foundation Level 1
1st place: Saif Al Kabi
2nd place:Mohammed Al Mutawa
3rd place: Meryam Muzaferij
Foundation Level 2
1st place: May Al Thani
2nd place:Tayiba Muzaferija
3rd place: Abdulla Al Julandani
Intermediate Level 5
1st place: Abdulrehman Al Bukhari
2nd place:Jassim Al Kuwari
3rd place: Carlota Al Arcon
Intermediate Level 5 (with Ranking)
1st place: Abdullaziz Al Ghanim
2nd place:Mohamad Al Derbesti
3rd place: Danae Looman
DRESSAGE
1st place: Nayla Tamim Al Thani
2nd place:Hamad Faisal Al Thani
3rd place: Habeb Waed Al Hamza
4th place: Saoud Faisal Al Thani
5th place: Khalid Faisal Al Thani
6th place: Aisha Tariq Al Khater
Back to News listing
DISCOVER
AL SHAQAB
AL SHAQAB AIMS TO PROVIDE AN EDUCATIONAL AND CULTURAL EXPERIENCE TO ALL PERSONS IN QATAR.