Al Shaqab's Riders and Horses Progress Towards Endurance World Cup 2020
Publication Date:

02/09/19

Category:

Endurance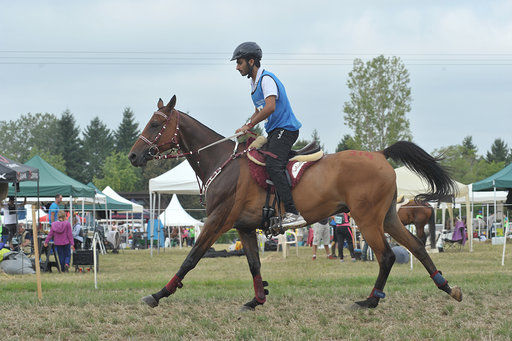 Three riders and horses from the Endurance Department of Al Shaqab, member of Qatar Foundation, delivered a sterling performance at the prestigious Endurance Equestre Monpazier event recently held in France. As a result, the successful horses have qualified to participate in the higher categories of Fédération Equestre Internationale (FEI) races that would eventually qualify them for next year's Endurance World Cup.

Al Shaqab's Sultan Salim Al Shamousi, astride RV Sultan, and Khalid Sanad Al Nuaimi, riding IFO LR Polino, competed successfully in the CEI2* 125kmwhile Marine Faucon, on CA'Saddam Al Shaqab, completed the CEI1* 80km race.
The results of these marathon horses and their riders have come at the peak of the international endurance horse racing season. Leading horses and riders of Al Shaqab's Endurance team are presently in France as they undergo intensive training to compete in FEI's 2019 World Championship for 7-year-old horses in Pisa, Italy, scheduled to take place on September 20.
At the national level, Qatar's exciting endurance horse racing season will begin in October. Following the international racing season, Al Shaqab's Endurance team will be focusing on major national titles such as the 2019 National Day Cup, 2020 Qatar International Cup and the prestigious 2020 Emir Sword Cup, among others.
As the name suggests, Endurance riding involves the horse and rider competing over long distances, often across breathtaking landscapes. The competition truly puts human and equine stamina and determination to the test.

The demands of endurance races are intense and tactical, but the welfare of the riders and the horses are always paramount at all time
Back to News listing
DISCOVER
AL SHAQAB
AL SHAQAB AIMS TO PROVIDE AN EDUCATIONAL AND CULTURAL EXPERIENCE TO ALL PERSONS IN QATAR.