Back with a bang! GCL Season Opener in Doha Win Secured by Risenbeck International
Publication Date:

03/03/23

Category:

LGCT 2023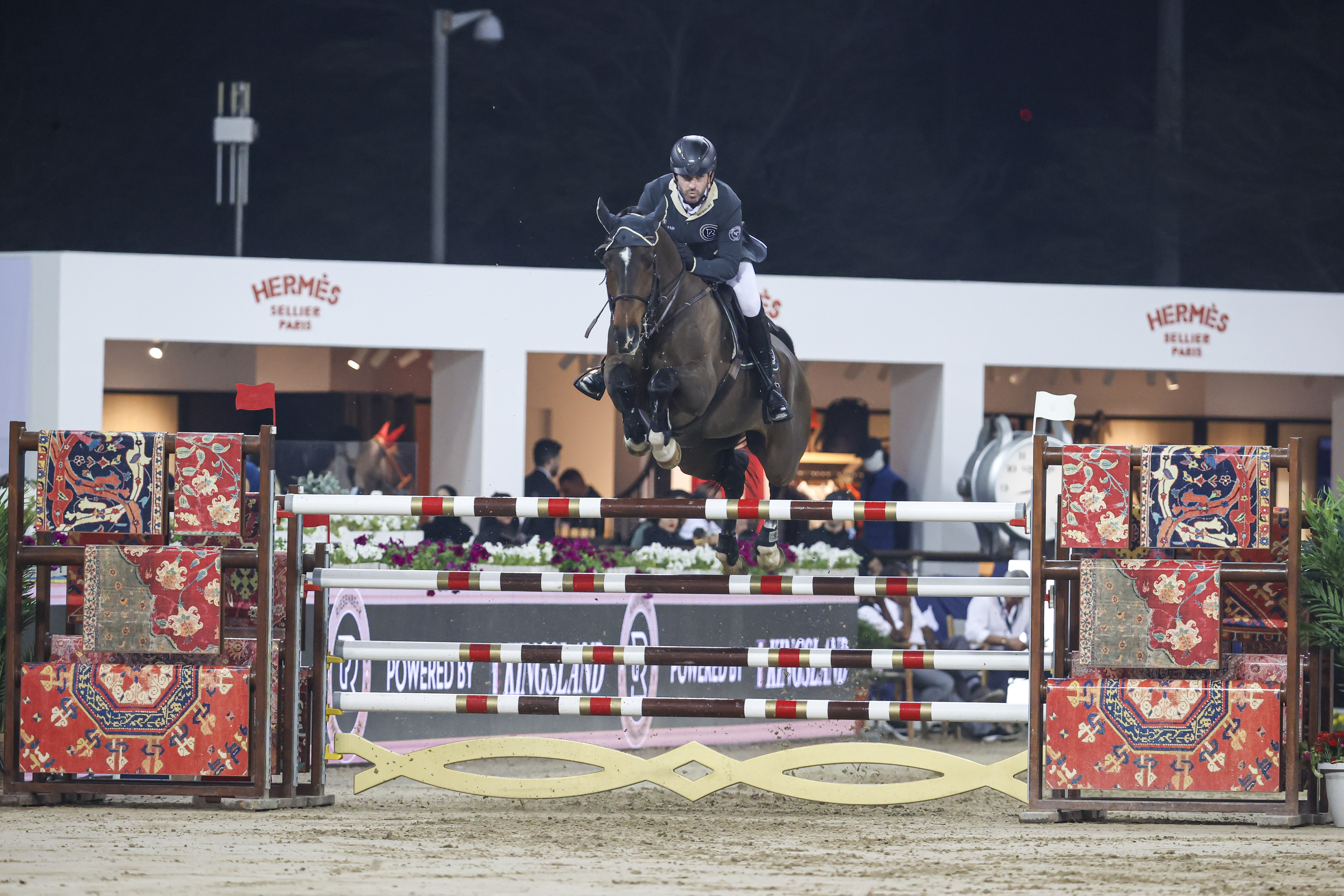 At the buzzing Longines Arena, Riesenbeck International powered by Kingsland emerged triumphant, securing the ranking lead in 2023's opening GCL leg. The first leg of the thrilling 2023 championship race saw unbeatable performances today in Doha by the team's top guns.
Today's results set the stage for the next legs of the GCL as horses and riders head across the globe, where the next rounds will play out in the breathtaking destinations of Miami Beach and Mexico City. Over €36 million in prize money is on offer in the 2023 LGCT and GCL season with over €10 million alone in one weekend for teams in the GCL Super Cup at the GC Prague Playoffs in November.
Riders were welcomed to the arena by a supportive crowed around Al Shaqab's bustling Longines Arena. From alfresco dining to luxury VIP, a decedent selection of international cuisine and top sport was enjoyed by many local and traveling spectators alike.
Heavyweights Christian Kukuk and Philipp Weishauppt took full advantage of the extraordinary horsepower of Coby and Mumbai with impressive rounds to seal the coveted first win of the season and took the lion's share of the €300,000 prize money for today's GCL competition.
St Tropez Pirates, featuring brand new signings Simon Delestre and Marlon Modolo Zanotelli also collected just four faults, with an accumulated time of just over a second slower than the winning team, which earned themselves a well-deserved silver trophy.
A mix of team rivalry and competitive spirit shone through with Valkenswaard United finishing in an impressive third, with returning riders Marcus Ehning aboard the on-form Stargold, and John Whitaker and Equine America Unick du Francport leading the team to the final spot on the podium today.
It has been mixed emotions for the Riesenbeck International squad this week as team rider and owner Ludger Beerbaum was taken to hospital yesterday after a fall. Philipp explained: "We are delighted with the day today. We have had up and downs this week. I was not supposed to jump today at all - Coby was meant to have a day off and Ludger was supposed to ride but unfortunately, he ended up in hospital last night. This win was for Ludger and we wish him a speedy recovery. For sure he is watching from the hospital now,so we wish him all the best."
After a rapid round from teammate Christian Kukuk he explained: "My strategy was just to jump a clear round. In the first round, I felt we were already fast, and we ended up eighth place individually without even trying to be fast. In the second round, I was like wow when we crossed the finish line. I am impressed with how fast Mumbai is. It is a very good day for us. Now we have an evening to celebrate!"
With the unveiling of the new weekend format, riders were challenged by GCL's Round 1 and Round 2 being back-to-back, rather than the traditional two-day rollout. Philipp Weishauppt commented to GCTV: "The new format with both rounds in one day and I thought it was great."
After GCL Round 1, six teams entered the arena for Round 2 with a clean score sheet. Four teams took to Round 2 bringing in just four faults, leaving little to no room for error for the leading teams.
Competition favourites Shanghai Swans star striker Max Khüner dramatically put them out of contention when his horse Eic Cooley Jump the Q collected 12 faults in the second round, leaving teammate Christian Ahlmann and Solid Gold's double clear void of contention.
As the first double clear rounds entered, Rome Gladiators powered by ClipMyHorse.TV had just one pole in hand. Represented by the Breen brothers, Shane and Trevor ultimately left the arena on an uncharacteristic 19 faults from Trevor's homebred mount Highland President, and four faults from Shane's Cuick Star Kervec.
Next, Stockholm Hearts powered by H&M We Love Horses, entered the arena. Switching horses for Round 2, Malin Baryard-Johnson took to the Uliano Vezzani built course aboard 2022's highest performing GCL horse, H&M Indiana. Lilly Attwood and Calvaro's Up To Date found the last line challenging with the last three fences falling, leaving 2022's GCL of Doha winners on 16 faults.
No team changes for German-based team, Riesenbeck International powered by Kingsland, proved a success with anchor riders Christian Kukuk posting a double clear and Philip Weishaput collecting just one rail. Leaving all to play for as the final three teams entered the arena, the suspense was high.
A single rail from Valkenswaard's United John Whitaker saw the iconic duo of Whitaker and Marcus Ehning sit in third with just one team to go. Enter: Istanbul Warriors powered by Carpe Diem, heading into Round 2 in pole position, but Round 2 proved a challenge for Omer Karaveli and Abdel Said.
Day two of 2023's Longines Global Champions Tour of Doha saw a brilliant display of sportsmanship across the board. Qatari rider, Mohammed Saeed A M Haidan aboard his horse D Saucedo took line honors in the CSI 3* 1.35m against the clock, a full two seconds ahead of second place. The second class of the day saw Ibrahim Hani Bisharat and Henriette (JOR) top the podium as the day then unfolded into the curtain raising GCL competition.
With one day of competition left, for the opening leg of the 2023 Longines Global Champions Tour and GCL Series, tomorrow will see the ultimate individual challenge take place from 6pm local time. Join us at the amazing Al Shaqab for Day 3 of the Longines Global Champions Tour Grand Prix of Doha.
Back to News listing
DISCOVER
AL SHAQAB
AL SHAQAB AIMS TO PROVIDE AN EDUCATIONAL AND CULTURAL EXPERIENCE TO ALL PERSONS IN QATAR.