The Commercial Bank CHI AL SHAQAB Presented by Longines: Day 2 saw a Dutch victory in the Dressage, French and German wins in the 5-star Jumping, and a great performance by a 20-year-old horse
Publication Date:

24/02/23

Category:

CHI Al Shaqab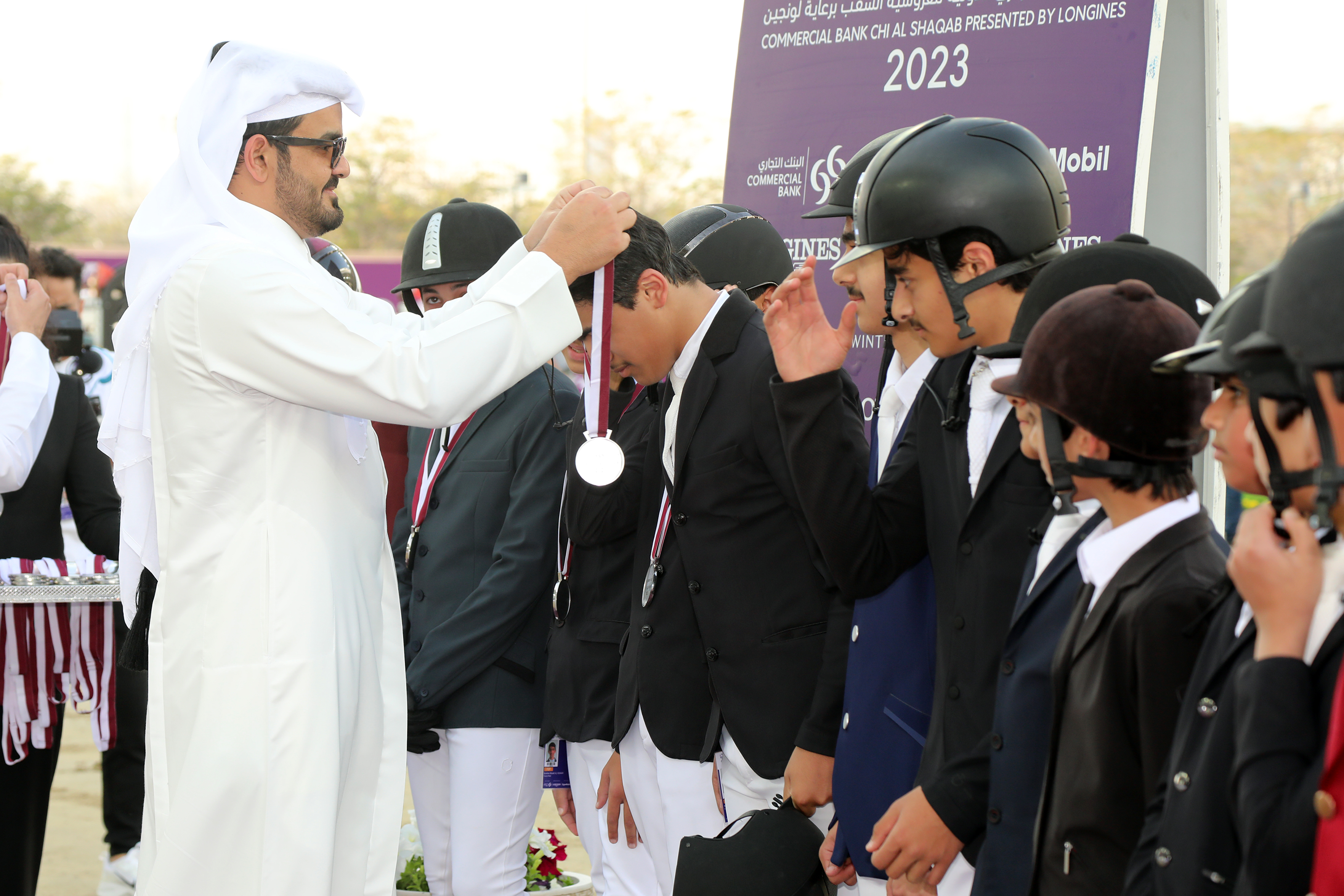 24 February 2023 – Doha, Qatar. The Netherlands' Dinja van Liere won the CDI 5* Dressage Grand Prix, riding her 11-year-old horse, Hartsuijker, on the second of three days of world-class equestrian sport at the Commercial Bank CHI AL SHAQAB Presented by Longines 2023.
The equestrian center was honoured to welcome HE Sheikh Joaan bin Hamad bin Khalifa Al Thani, Al Shaqab Chairperson, as well as other special guests, to enjoy Friday's program of events at this 10th edition of Qatar's premier international competition, hosted in the magnificent Longines Arena.
During the event, a tribute was also held in the main arena to honour the late FEI Jumping Director, Mr Marco Fusté Oncins, who very sadly passed away in January.
Dinja van Liere beat a field of 20 other riders to take the Dressage title with a score of 75.152% – ahead of second-placed Patrik Kittel from Sweden (72.870%), riding Touchdown; and in third, Spain's José Antonio Garcia Mena (72.261%), aboard Divina Royal.
Afterwards, she commented: "Hartsuijker is a very sweet, very honest horse – always working hard and trying to please. He's become a consistent Grand Prix horse, who knows when he needs to perform. And he did so well today – in an indoor arena, which is a rather different atmosphere. I'm very happy!"
In the Jumping CSI 5* Table C class, over a course of 1.45m fences, the first prize went to France's Simon Delestre, riding his 10-year-old stallion, I Amelusina R, to a round of 63.52 secs. The runner-up was Irishman Shane Breen on Haya (63.68 secs), the pair continuing their successful show, following a win in the 1.45m Special Two-Phase on Friday. In third place was his Irish compatriot, Denis Lynch, riding Cornets Iberio.
Speaking to the media, the winning rider, Simon, said: "I'm very pleased with this result. It's a first win in the 5-star class for this horse. He's always improving – I've developed him carefully since he was a 3-year-old. The large arena here suits his big canter."
In the day's final event – the same CSI 5* class, but with a jump-off over 1.55m fences – victory went to Germany's Christian Kukuk, riding the 11-year-old grey stallion, Mumbai. After a clear round of 70.60 secs, Christian won the jump-off with a time of 41.36 secs. In second place was Ireland's Mark McAuley (70.64/41.42 secs) on GRS Lady Amaro; third was Frenchman Kevin Staut (69.18/41.59 secs) on Dialou Blue PS – that pair adding to their second-place finish in Friday's 1.45m event.
Following the prize-giving ceremony, Christian said: "Many things came together in what was our first show of the year. I changed a few things – changed the bit, removed his shoes – and it all worked well. The horse and I are a very good match, and he can still improve more. That makes me very happy."
Earlier on Day 2, Qatar's Ghanim Nasser Al Qadi followed up his second-place finish of the previous day with a win in the CSI 2* 1.30m, Two-Phase Jumping class. Riding his 14-year-old stallion Quick Step, Ghanim completed a clear round in 24.27 secs, ahead of Qatar's Sheikh Khalifa Abdulaziz J A Al Thani (25.04 secs) riding Serendipity, and Kuwait's Ali Al Khorafi (25.22 secs) on Karaat.
The next class in the Outdoor Arena, the CSI 2* 1.40m Two-Phase, saw a remarkable equine performance as the 20-year-old horse Quel Homme, ridden by Qatar's Khalid Mohammed al Emadi, remarkably defied his age to jump to victory with a clear round in 34.19 secs. Second and third places went to the same two riders as in the earlier class – respectively Qatar's Sheikh Khalifa Abdulaziz J A Al Thani and Kuwait's Ali Al Khorafi.
This was followed by a Children's Competition over 0.8-0.9m jumps, designed to encourage young local and regional riders, as well as give them the opportunity to perform on an international stage. Of the 26 competitors, 10 achieved a 'no faults' clear round to share 1st place: Mariam Abdulkarim Abed (IRQ), Abdulaziz Soud Al Mutawa (QAT), Nawaf Faisal Al Obaidli (QAT), Kaltham Thani Al Sowaidi (QAT), Hadi Nasser Al Shahwani (QAT), Majed Jamaan Al Ali (QAT), Mohammed Abdulla Al Khulaifi (QAT), Abdulaziz Saoud Al Fakhroo (QAT), and Ibrahim Mohamed Al Zeyara (QAT).
Prizes were graciously awarded to the children by the Chairperson of Al Shaqab, HE Sheikh Joaan bin Hamad bin Khalifa Al Thani. Among the winners, Mariam Abdulkarim Abed, from Iraq, spoke of the great emotional bond she has developed with her horse, Wadi Rum DDH.
Meanwhile, in the Indoor Arena, the second stage of the exciting Para-Dressage event (CPEDI 3*, Grand Prix B) was unfolding. Competition is divided into five Grades, according to the riders' level of disability – and in Friday's tests, the winners were as follows: Grade I, Annemarieke Nobel (NED); Grade II, Beatrice de Lavalette (USA); Grade III, Lotte Krijnsen (NED); Grade IV, Kate Shoemaker (USA); and Grade V, Ulricke Dekeyzer (BEL).
Dutch rider, Annemarieke Nobel, was especially pleased with how well she and her horse, Doo Schufro, performed. Annemarieke recently moved from Grade II to Grade I disability status, as her physical limitations had increased. This left her unsure how her horse would cope with the Grade I tests, conducted only at walking pace. But Doo Schufro adapted brilliantly – and the pair can now move on with confidence to Saturday's Para-Dressage Freestyle event.
During the 3-day CHI AL SHAQAB event, daily bulletins are available on the Al Shaqab website (www.alshaqab.com) to keep everyone up to date with the latest news on events, results and winning riders.
The program for Saturday, the third and final day of the 2023 Commercial Bank CHI AL SHAQAB Presented by Longines, promises to be as exciting as ever, with a full day of world-class equestrian competition – culminating in the Dressage Grand Prix Freestyle and, for the biggest prize of the weekend, the Showjumping Grand Prix, contested over a course of 1.60m fences, with two rounds and a jump-off, to crown this year's ultimate jumping champion.
Tickets for the final day can be purchased at www.q-tickets.com or on arrival at the venue.
-ENDS-
____________________________________________________
Commercial Bank CHI AL SHAQAB Presented by Longines
Among the highlights on the global equestrian sports calendar, the CHI ('Concours Hippique International') event at Al Shaqab is one of only five CHI equestrian competitions held annually around the world – and the only event of its kind in the Middle East and Asia regions.
To learn more, please visit https://alshaqab.com/en/media/chi-al-shaqab
Al Shaqab – A World-Class Facility
Since its establishment in 1992, Al Shaqab's vision has been to build on Qatar's Arabian horse heritage and be a leading global center for equine professionals, while providing an engaging experience for the community. Global leadership has not only meant preserving, improving, and promoting the Arabian horse breed, but also encouraging the community in this unique, traditional cultural sport.
Today, Al Shaqab's impressive facilities, which are distinctively designed in the shape of a horseshoe, cover 980,000 square meters. With a state-of-the-art Main Arena comprising both an indoor and outdoor venue capable of holding over 5,000 spectators, Al Shaqab is part of Qatar's growing reputation on the world stage that showcases its ability to host major international sports event at the highest level.
For further details, please visit www.alshaqab.com
Qatar Foundation – Unlocking Human Potential
Qatar Foundation for Education, Science and Community Development (QF) is a non-profit organization that supports Qatar on its journey to becoming a diversified and sustainable economy. QF strives to serve the people of Qatar and beyond by providing specialized programs across its innovation-focused ecosystem of education, research and development, and community development.
QF was founded in 1995 by His Highness Sheikh Hamad bin Khalifa Al Thani, the Father Amir, and Her Highness Sheikha Moza bint Nasser, who shared the vision to provide Qatar with quality education. Today, QF's world-class education system offers lifelong learning opportunities to community members as young as six months through to doctoral level, enabling graduates to thrive in a global environment and contribute to the nation's development.
QF is also creating a multidisciplinary innovation hub in Qatar, where homegrown researchers are working to address local and global challenges. By promoting a culture of lifelong learning and fostering social engagement through programs that embody Qatari culture, QF is committed to empowering the local community and contributing to a better world for all.
For a complete list of QF's initiatives and projects, please visit: www.qf.org.qa
For any media inquiries, please contact: pressoffice@qf.org.qa
Back to News listing
DISCOVER
AL SHAQAB
AL SHAQAB AIMS TO PROVIDE AN EDUCATIONAL AND CULTURAL EXPERIENCE TO ALL PERSONS IN QATAR.