D Beisan Wows the Judges During the 38th All Nations Cup held in Aachen, Germany
Publication Date:

26/09/22

Category:

Breeding & Show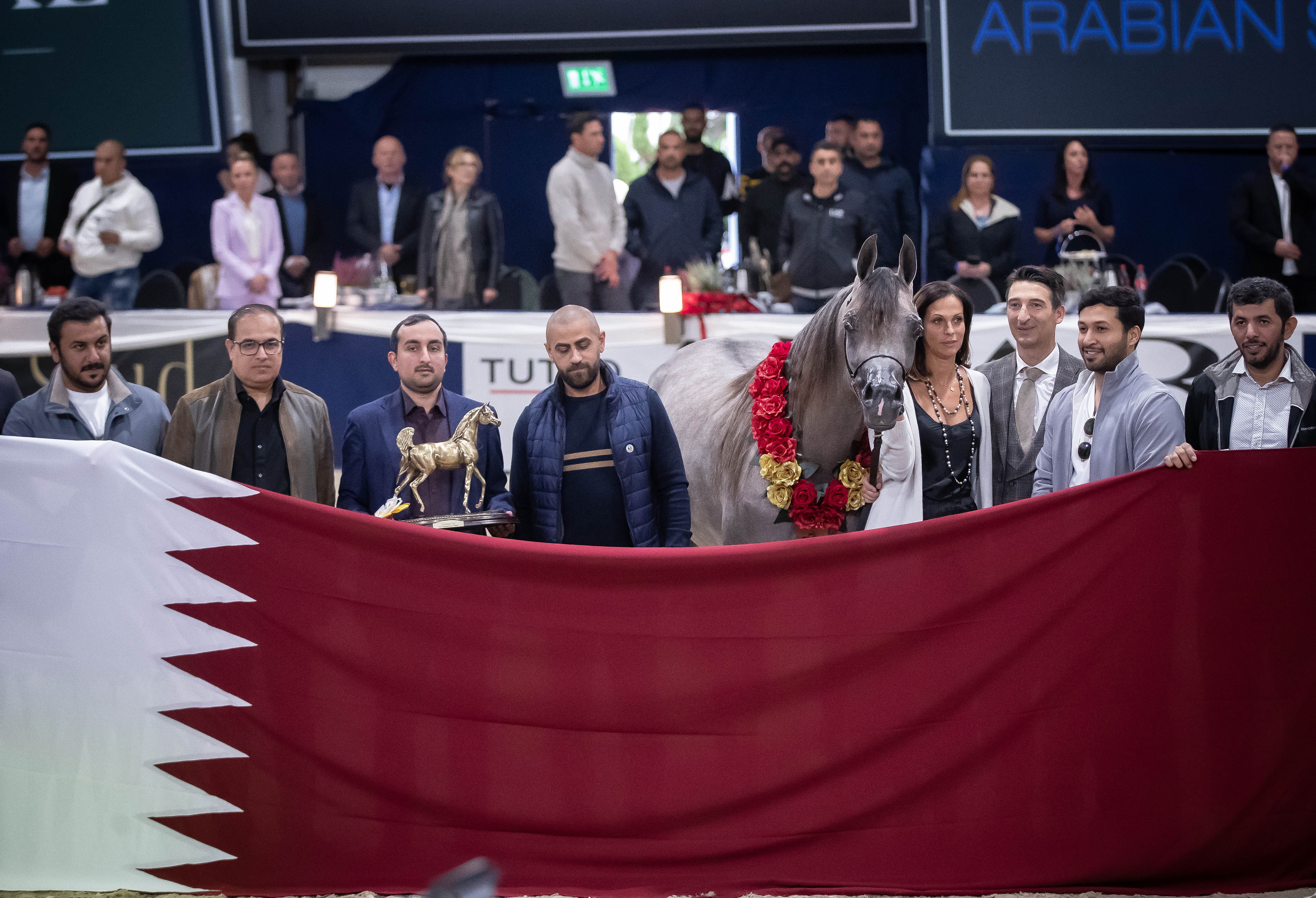 Al Shaqab (Member of Qatar Foundation) participated in the 38th All Nations Cup held in Aachen, Germany from September 24-25, 2022. Al Shaqab and 2-year-old D Besian – D Beisan won the gold medal and the title of Junior Fillies Championship (Class JFC), 2 Years Old.
It was the impressive performance by D Beisan, sired by D SERAJ and out of RAH ROSALIA that earned her adoration and admiration from the judges.
Khalid Al Jehani, Manager, Al Shaqab Breeding & Show Department said: "I am very proud of what Al Shaqab accomplished in Aachen. With her beauty and performance, D Beisan captured everyone's attention, and she displayed what a horse of her caliber can do."
D Beisan's latest victory adds to her two titles that she won during the Mediterranean and Arab Countries AHC - Menton 2022, back in june, which included 1st place in the Fillies 2 Years Old (Class 2) category, Best in Show Female (Class BSF) and Gold CH.
Al Shaqab – A World-Class Facility
Since its establishment in 1992, Al Shaqab's vision was to build on Qatar's Arabian horse heritage and be a leading global center for equine professionals, while providing an engaging experience for the community. Global leadership has not only meant preserving, improving, and promoting the Arabian horse breed, but also encouraging the community in this unique, traditional cultural sport.
Today, Al Shaqab's impressive facilities, which are distinctively designed in the shape of a horseshoe, cover 980,000 square meters. With a state-of-the-art Main Arena comprising both an indoor and outdoor venue capable of holding over 5,000 spectators, Al Shaqab is part of Qatar's growing reputation on the world stage that showcases its ability to host major international sports event at the highest level.
For further details please visit www.alshaqab.com
Back to News listing
DISCOVER
AL SHAQAB
AL SHAQAB AIMS TO PROVIDE AN EDUCATIONAL AND CULTURAL EXPERIENCE TO ALL PERSONS IN QATAR.