GCL Favorites Thrive Under Pressure To Emerge Victorious at Al Shaqab
Publication Date:

06/03/22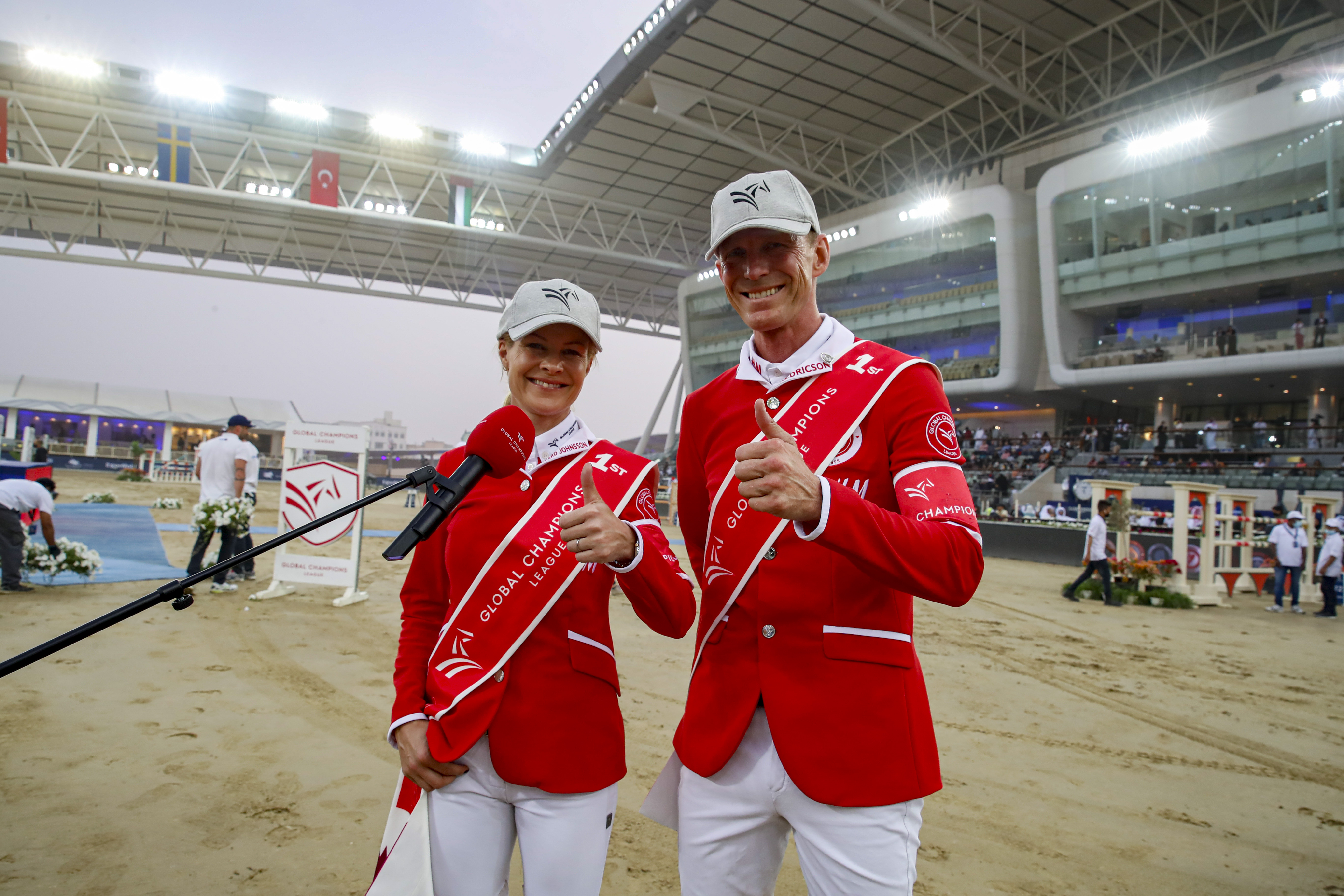 A day of high drama unfolded at the Longines Arena at Al Shaqab, with Stockholm Hearts Powered by H&M We Love Horses nailing their debut performance, as power pairing Peder Fredricson and Malin Baryard-Johnsson won GCL Doha on a clean sheet.

Starting their championship campaign, the Swedish duo, riding Hansson Wl and H&M Indiana, held their nerve, leaving all the fences up to continue the streak of GCL Doha always being won by a teamwith 0 faults.

Hamburg Giants, who didn't make any changes from their round-one squad, secured second place on the podium, with Jur Vrieling, onboard Long John Silver, and Bart Bles, astride Comme-Laude W, jumping the only other double clear of the weekend.

Bronze medals went to Madrid In Motion's combination of Jack Whitaker and Maikel van der Vleuten, who were the fastest team on 4 faults.
Last to go in the final round, and the strongest team on paper, Stockholm Hearts had their game faces on as they rode into the arena together to a loud roar from the crowd. Taking on the course at pace, Baryard-Johnsson soared over the last fence on the fiery H&M Indiana with a clear. With no room for error, Fredricson stepped up with Hansson WL, who did everything he asked and more. Fredricson punched the air as they crossed the line, knowing he had helped the Hearts claim their first win at their first attempt.

Baryard-Johnsson was effusive in her praise for Fredricson: "There was a lot of pressure today, but having the world number one coming behind me, it feels good. It is a long season ahead of us, but it is a very good start and we are super happy."

A smiling Fredricson said: "It is one thing to be favorites, but it's another to actually perform. There is pressure but that's what I like about it, it is exciting and this pressure is a fantastic feeling."
Back to News listing
DISCOVER
AL SHAQAB
AL SHAQAB AIMS TO PROVIDE AN EDUCATIONAL AND CULTURAL EXPERIENCE TO ALL PERSONS IN QATAR.