Horsemanship & Equine Education edition of the Al Shaqab Hayaakum Festival
Start Date / Time:

31/03/23

End Date / Time:

01/04/23

Location:

Longines Indoor Arena at Al Shaqab

Category:

General
We wish you and your loved-ones Ramadan Mubarak!

We are pleased to inform you that the Horsemanship & Equine Education edition of the Al Shaqab Hayaakum Festival is slated on 31 March to 01 April 2023 from 8:00 PM to 11:30PM at the Al Shaqab Longines Arena.

Hence, you are cordially invited to bring your families and friends to experience exciting new activities such as: gymkhana for registered participants, pony trekking, fun horse educational stations, bouncy castles, arts, and crafts, and much more. A variety of F&B vendors will be available to offer you wide selections of foods and beverages. If you are up to watching show jumping athletes in action, the regular Hathab competitions will also be held back-to-back in the same venue.

We look forward to seeing you enjoy this occasion.

Registration and Participation for Gymkhana Competitions
Date and time: 31st of March - 1st of April
Location: Al Shaqab Indoor Arena
Eligibility: Al Shaqab members only from ages 3-12 years old
Gymkhana competitions are a series of pony games and activities that equine education students can partake in during every edition of Hayaakum.
Students will have the opportunity to register to acquire their very own Gymkhana T-shirt and their starter badge to continue winning badges in every competition. To register please click here
To participate in our Gymkhana competitions students will need to pay our participation fee and are then well on their way to competing and winning their first badge in the case they have registered. To participate please visit the EED to pay and book your spot.
Registration and Participation Fees
Registration: 150QAR
Deadline: 25th of March
Participation: 75 QAR
Deadline: 28th of March
Please note that all payments will be settled in the Equine Education Department, please visit us by the deadlines stated above. Your T-shirt and badge can also be collected from the Equine Education Department once confirmed.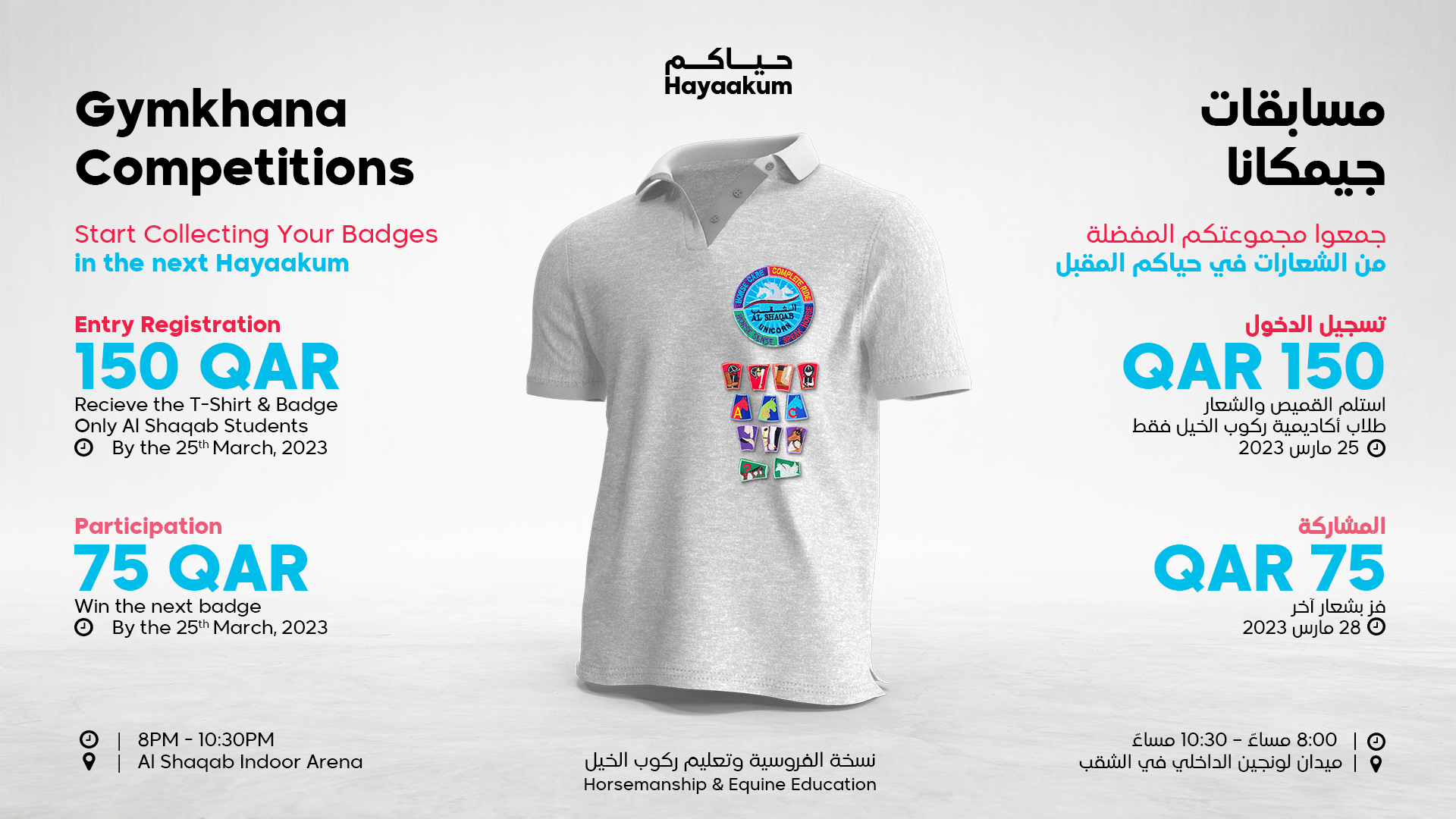 DISCOVER
AL SHAQAB
AL SHAQAB AIMS TO PROVIDE AN EDUCATIONAL AND CULTURAL EXPERIENCE TO ALL PERSONS IN QATAR.