Month of Wellness is Back to Al Shaqab. Its' Free-For-All
Publication Date:

28/03/23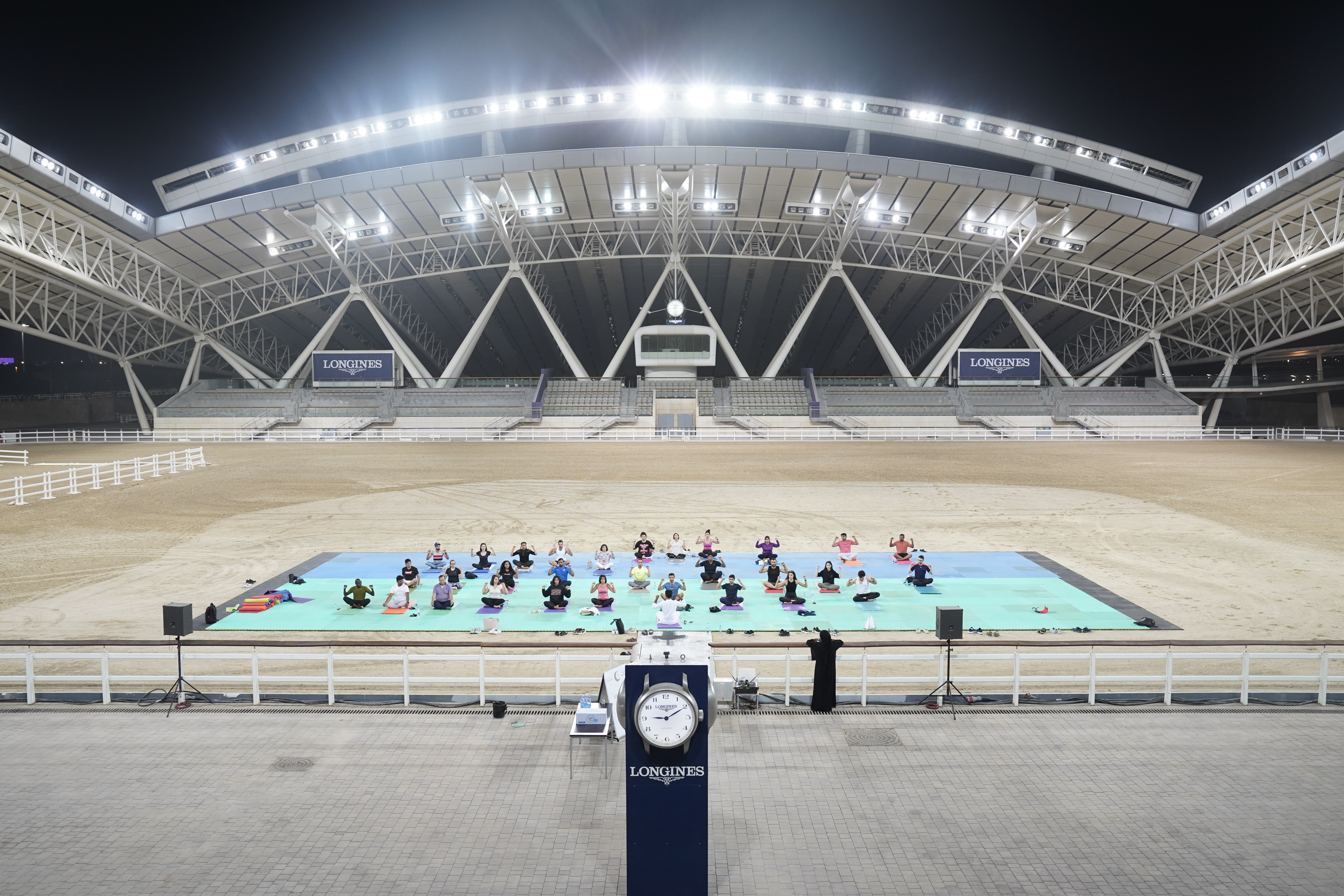 Al Shaqab has collaborated with country's top fitness establishments to give back to the community by providing community fitness classes during this holy month of Ramadan. From weight training to spin classes, functional training to detox yoga, everything you need to rejuvenate your body, mind and soul can be found at our spectacular Longines Arena. And it's all free for one and all.
Furthermore we have exclusive classes for women only, as it contributes to enable females to practice sports.
The aim to have free-for-all, Month of Wellness, is to encourage the community to maintain a healthy lifestyle through physical education for all ages and to generate interest in sporting activities.
Four pillars of sports àFocus, Motivation, Inspiration and Endurance, on which total fitness of Body, Mind and Souls depends is the promotional moto of Month of Wellness at Al Shaqab. Exercising during the Holy Month of Ramadan is essential and beneficial for health, its an opportunity to burn stored fat. Physical activity is important for good health and maintain weight, as well as promoting brain health and maintaining blood flow. It also helps in strengthening muscles.
Qatar pays great attention to sports in all its fields; therefore, a sports day is dedicated to the country every year. Based on Qatar vision 2030, which consider sport one of its most important pillars, Al Shaqab generously opens its door is to all to try different types of sports and encourages community participation.
The classes will be taking place between the 23rd of March and the 12th of April' 23. All classes will take place for 1 hour between 21:00 pm and 22:00 pm.
We look forward to joining us Free-For-All fitness classes everyday post Iftar at our world-class Longines Arena.
For easy registration and scheduled activities please visit Al Shaqab website or social media platforms, upload the application, and choose your desired classes
https://alshaqab.com/en/al-shaqab-month-wellness
Al Shaqab – A World-Class Facility
Since its establishment in 1992, Al Shaqab's vision has been to build on Qatar's Arabian horse heritage and be a leading global center for equine professionals, while providing an engaging experience for the community. Global leadership has not only meant preserving, improving, and promoting the Arabian horse breed, but also encouraging the community in this unique, traditional cultural sport.
Today, Al Shaqab's impressive facilities, which are distinctively designed in the shape of a horseshoe, cover 980,000 square meters. With a state-of-the-art Main Arena comprising both an indoor and outdoor venue capable of holding over 5,000 spectators, Al Shaqab is part of Qatar's growing reputation on the world stage that showcases its ability to host major international sports event at the highest level.
For further details, please visit www.alshaqab.com
Back to News listing
DISCOVER
AL SHAQAB
AL SHAQAB AIMS TO PROVIDE AN EDUCATIONAL AND CULTURAL EXPERIENCE TO ALL PERSONS IN QATAR.