Preparations under way for the Al Shaqab Showjumping Competition
Publication Date:

08/01/20

Category:

Equine Education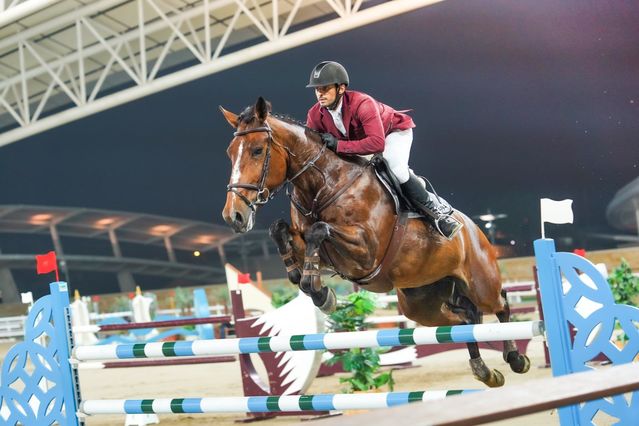 Doha, Jan 8th Al Shaqab, a member of Qatar Foundation, will conduct the inaugural Al Shaqab Showjumping Competition on January 10 and 11, at the Al Shaqab Indoor Arena.


Organized by Al Shaqab's Equine Education Department (EED), the competition will be a national event, open to Qataris and residents of Qatar. It aims to improve the standard of horse riding among Qatari youth, produce future international equestrian champions for Qatar, and encourage the involvement of private stables and individual horse owners.
Showjumping, an Olympic discipline, is one of the most popular horse-riding activities in Qatar. The Al Shaqab Showjumping Competition will comprise five categories of various age groups, supporting Qatar's vision to develop sustainable human capacity. The youngest age group is the Future Riders Program, for children aged 6 and above, leading up to the Senior (big tour) group, for individuals.
Khalifa Mohammed Al Attiya, Chairman, Organizing Committee Al Shaqab Show Jumping Competition, said: "We have always sought to train and equip the next generation of riders in Qatar through Equine Education Department. The Al Shaqab Showjumping Competition is another step in that direction. We are constantly striving to conduct various competitions and events all year round to provide our trainees as well as the next generation of local riders with the necessary experience to participate in equestrian events conducted to international standards. It is our intent that riders learn to participate competitively while adhering to the true spirit of sportsmanship."
In line with Al Shaqab's commitment to community engagement, the competition will be a family-friendly event open to the public, and admission will be free. Entertainment will include a fun zone for children, bouncy castles, and cafes.
Two Al Shaqab Showjumping Competitions have been scheduled to take place in 2020, with the second to follow on March 20 and 21.
Back to News listing
DISCOVER
AL SHAQAB
AL SHAQAB AIMS TO PROVIDE AN EDUCATIONAL AND CULTURAL EXPERIENCE TO ALL PERSONS IN QATAR.