Riding lessons for Academic Year 2019 begin at Al Shaqab
Publication Date:

11/09/19

Category:

Equine Education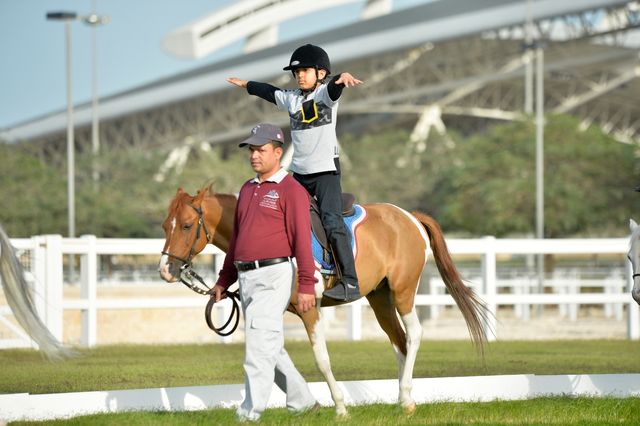 The curriculum-based equine education will train student riders at various levels in the art of horsemanship

The Equine Education Department (EED) of Al Shaqab, member of Qatar Foundation, has begun riding lessons for the academic year 2019. A new curriculum has been put in place, to usher in the reintroduction of the academic system for Al Shaqab's Riding Academy.
A Parents' Orientation Program was conducted on September 4 and 5, to apprise parents of the school's riders, on the curriculum that will be followed. The riding classes for the academic year 2019 began on September 7. Lessons will be offered until the end of April 2020. Instructions are being made available for all skill levels, starting with students aged six, up to 17 years.
Al Shaqab features a full-service Riding Academy equipped with the infrastructure to teach all levels from preliminary/novice level, right up to advanced/competition level. Through a diverse range of theoretical, riding, and practical lessons that span various aspects of horse sciences, student riders will be trained and groomed in the different facets of horsemanship.
Broadly classified as Foundation Level and Intermediate levels, the curriculum offers eight levels of programs depending on the rider's ability and skill. While classes at the Foundation Level are introductory, offering preparatory classes in dressage, jumping, theory, and groundwork, the Intermediate Levels will provide more advanced learning in these areas. At the advanced stage of the intermediate level, riders will be able to select their majors and eventually receive their Equestrian Passport. This passport is a validation that the rider qualifies for admission to riding schools anywhere in the world, as well to participate in various equestrian competitions. Further, the passport will carry a unique identification number and will be officially registered with the Qatar Equestrian Federation.
Mohammed Sultan Al Suwaidi, Manager, Equine Education Department at Al Shaqab, said: "As Al Shaqab reintroduces the academic system for its Riding Academy, we have in place a carefully planned curriculum across all levels, as well as a clear safety manual to ensure the right safety standards are followed. Titled "Qatar Equestrian Classifications," Al Shaqab introduces this new system in close collaboration with the Qatar Equestrian federation. Our objective is that the lessons we offer, go beyond horse riding, to educate our riders in the art of horsemanship. We believe that learning good horsemanship is a process that never ends."
Back to News listing
DISCOVER
AL SHAQAB
AL SHAQAB AIMS TO PROVIDE AN EDUCATIONAL AND CULTURAL EXPERIENCE TO ALL PERSONS IN QATAR.