Siwar Al Shaqab crowned Gold Champion in Menton
Publication Date:

08/07/21

Category:

Breeding & Show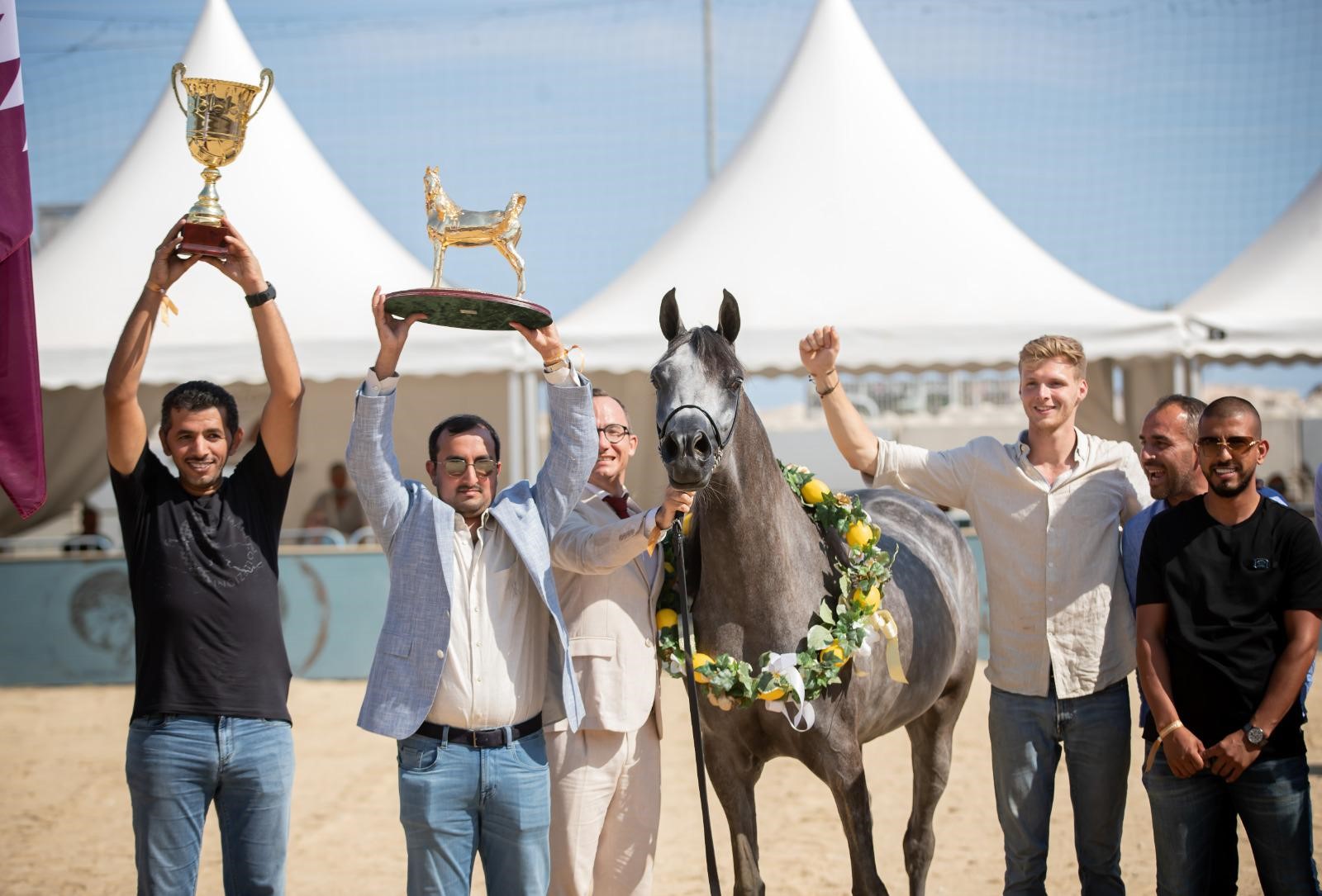 Al Shaqab, a member of Qatar Foundation, enjoyed a prize-winning outing at the 2021 Mediterranean & Arab Countries Arabian Horse Championship, with Siwar Al Shaqab producing a stunning display of style and elegance to be crowned Gold Champion Junior Female.
The triumphant performance by the majestic filly held extra significance, being delivered in the landmark 30th anniversary of the prestigious event, which was held on June 26 and 27 in Menton, France.
Siwar Al Shaqab, sired by SMA Magic One, out of Abha Myra, and the half sister of Fadi Al Shaqab, one of Al Shaqab's magnificent seven world champion stallions, lived up to her impressive pedigree in dazzling the judges. Superbly led by celebrated handler Raphael Curti, the new Gold Champion also won the following honors in Menton: Class winner (with 93 percent); Best Head; Highest Type Junior Filly; and Highest Score Junior Filly.
The victories highlighted once again the premium standing of Al Shaqab's distinguished breeding program, which has produced several Arabian stallions and mares that have emerged victorious at local and international shows, including three generations of world champions.
Khalid Al Jehani, Manager, Al Shaqab Breeding & Show Department, said: "I am delighted with Al Shaqab's achievement in Menton. This was an important win, at an important show, at an important time. Siwar Al Shaqab captivated everyone with her beauty and performance, and she delivered a simply outstanding display."
Al Shaqab – A World-Class Facility
Since its establishment in 1992, Al Shaqab's vision was to build on Qatar's Arabian horse heritage and be a leading global center for equine professionals, while providing an engaging experience for the community. Global leadership has not only meant preserving, improving, and promoting the Arabian horse breed, but also encouraging the community in this unique, traditional cultural sport.
Today, Al Shaqab's impressive facilities, which are distinctively designed in the shape of a horseshoe, cover 980,000 square meters. With a state-of-the-art Main Arena comprising both an indoor and outdoor venue capable of holding over 5,000 spectators, Al Shaqab is part of Qatar's growing reputation on the world stage that showcases its ability to host major international sports event at the highest level.
For further details please visit www.alshaqab.com
Qatar Foundation – Unlocking Human Potential
Qatar Foundation for Education, Science and Community Development (QF) is a non-profit organization that supports Qatar on its journey to becoming a diversified and sustainable economy. QF strives to serve the people of Qatar and beyond by providing specialized programs across its innovation-focused ecosystem of education, research and development, and community development.
QF was founded in 1995 by His Highness Sheikh Hamad bin Khalifa Al Thani, the Father Amir, and Her Highness Sheikha Moza bint Nasser, who shared the vision to provide Qatar with quality education. Today, QF's world-class education system offers lifelong learning opportunities to community members as young as six months through to doctoral level, enabling graduates to thrive in a global environment and contribute to the nation's development.
QF is also creating a multidisciplinary innovation hub in Qatar, where homegrown researchers are working to address local and global challenges. By promoting a culture of lifelong learning and fostering social engagement through programs that embody Qatari culture, QF is committed to empowering the local community and contributing to a better world for all.
For a complete list of QF's initiatives and projects, please visit: www.qf.org.qa
For any media inquiries, please contact: pressoffice@qf.org.qa
Back to News listing
DISCOVER
AL SHAQAB
AL SHAQAB AIMS TO PROVIDE AN EDUCATIONAL AND CULTURAL EXPERIENCE TO ALL PERSONS IN QATAR.