Siwar Al Shaqab crowned Junior Filly World champion in Paris
Publication Date:

13/12/21

Category:

Breeding & Show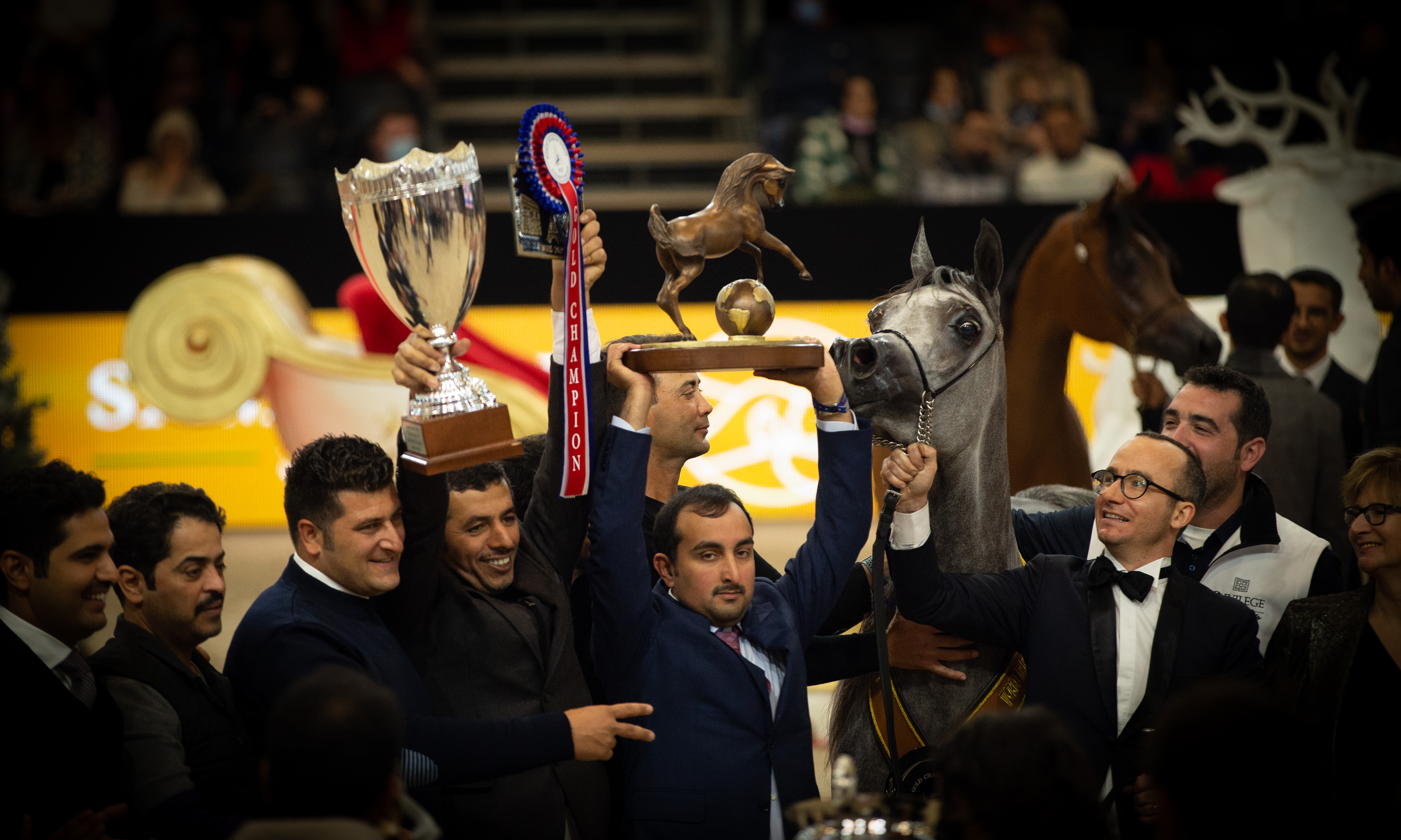 Siwar Al Shaqab delivered a stunning performance of grace and style to earn the prestigious title of Junior Filly World Champion at the 2021 Arabian Horse World Championship, which took place in Paris, from December 10-12.
The tremendous triumph caps an outstanding year for the exquisite Arabian filly bred by Al Shaqab, member of Qatar Foundation, and her celebrated handler, Raphael Curti, with the duo reaping the rewards of their long-term relationship. They also tasted success in June, when Siwar was crowned Gold Champion Junior Filly at the Mediterranean and Arab Countries Arabian Horse Championship in Menton, France.Paris, however, represents the pinnacle for the pair in 2021.
Sired by SMA Magic One, out of multiple-title winning mare Abha Myra, and the half sister of Fadi Al Shaqab, one of Al Shaqab's magnificent seven world champion stallions, Siwar stepped into the Paris arena with lofty ambitions. The qualifying classes proved challenging, but Siwar prevailed to take third place, booking her place in the championship round.
And it seems she saved her best for last. Superbly led by Curti, she didn't miss a step. Living up to her impressive pedigree, Siwar mesmerized the judges and the audience with her beauty and movement. Her head and neck received many scores, helping Siwar to continue her prize-winning form to win the ultimate title.

Khalid Al Jehani, Manager, Al Shaqab Breeding & Show Department, could not contain his excitement at Siwar's spectacular achievement. Speaking from Paris after the event, he said: "Today, we have achieved what seemed impossible yesterday. Siwar Al Shaqab is Paris' newest reigning Junior Filly World Champion!
"Siwar produced a simply outstanding display, and fully deserved her championship victory. I am delighted with Al Shaqab's performances in Paris. I must express my gratitude to the team who worked so hard to get us to this point. And a special mention to Raphael Curti, who was entrusted with preparing and showing Siwar, and delivered above and beyond expectation."
The victorious performance by Al Shaqab highlighted, once again, the premium standing of the world-class equestrian center's distinguished breeding program. Al Shaqab has produced several Arabian stallions and mares that have emerged victorious at local and international shows, including three generations of world champion stallions.
Al Shaqab – A World-Class Facility
Since its establishment in 1992, Al Shaqab's vision is to build on Qatar's Arabian horse heritage and be a leading global center for equine professionals, while providing an engaging experience for the community. Global leadership has not only meant preserving, improving, and promoting the Arabian horse breed, but also encouraging the community in this unique, traditional cultural sport.
Today, Al Shaqab's impressive facilities, which are distinctively designed in the shape of a horseshoe, cover 980,000 square meters. With a state-of-the-art Main Arena comprising both an indoor and outdoor venue capable of holding over 5,000 spectators, Al Shaqab is part of Qatar's growing reputation on the world stage that showcases its ability to host major international sports event at the highest level.
For further details please visit www.alshaqab.com
Back to News listing
DISCOVER
AL SHAQAB
AL SHAQAB AIMS TO PROVIDE AN EDUCATIONAL AND CULTURAL EXPERIENCE TO ALL PERSONS IN QATAR.