Al Shaqab rider excels at World Endurance Championship - Young Horses
Publication Date:

01/10/19

Category:

Endurance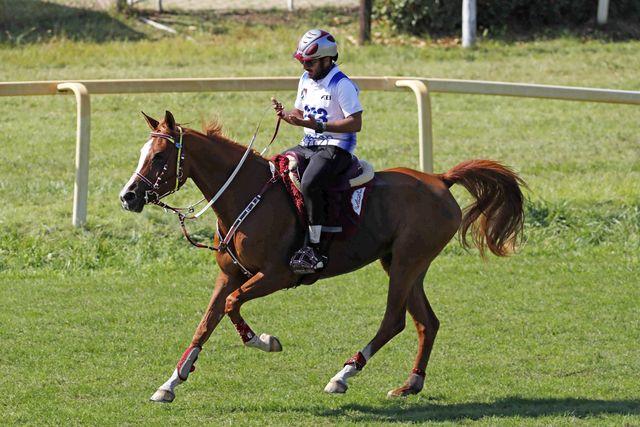 Mohammed Khalifa Al Sowaidi and his horse, Sa'ada Al Shaqab, put in a notable performance at the FEI Meydan World Endurance Championship - Young Horses 2019


Doha, September - Al Shaqab, member of Qatar Foundation, was in the spotlight once again when a member of the Al Shaqab Endurance team claimed a top-10 place at the FEI Meydan World Endurance Championship - Young Horses 2019 that recently concluded in Italy.
Al Shaqab rider Mohammed Khalifa Al Sowaidi and his horse, Sa'ada Al Shaqab, earned 7th place in the event, which was aimed at 7-year-old horses. Taking on competitors from several countries, Al Sowaidi and Sa'ada Al Shaqab covered a distance of 120km. In total, four horses and riders from Al Shaqab competed in the prestigious championship. Home of the Qatari National Team, Al Shaqab's Endurance Department has a squad of 12 riders including two junior riders - and 130 horses. The team participates in national, regional, and international endurance events. All of the horses that participated in the FEI Meydan World Endurance Championship - Young Horses 2019 were bred at Al Shaqab's state-of-the-art equestrian facility. Endurance horse racing is a niche equestrian sport that is rapidly growing in popularity. Al Shaqab's Endurance Department was developed to further promote Qatar's equestrian heritage and to raise and nurture the country's next generation of riders.
Al Shaqab – A World-Class Facility Since its establishment in 1992, Al Shaqab's vision was to build on Qatar's Arabian horse heritage and be a leading global center for equine professionals, while providing an engaging experience for the community. Global leadership has not only meant preserving, improving, and promoting the Arabian horse breed but also encouraging the community in this unique, traditional cultural sport. Today, Al Shaqab's impressive facilities, which are distinctively designed in the shape of a horseshoe, cover 980,000 square meters. With a state-of-the-art Main Arena comprising both an indoor and outdoor venue capable of holding over 5000 spectators, Al Shaqab is part of Qatar's growing reputation on the world stage that showcases its ability to host major international sports event at the highest level.
Back to News listing
DISCOVER
AL SHAQAB
AL SHAQAB AIMS TO PROVIDE AN EDUCATIONAL AND CULTURAL EXPERIENCE TO ALL PERSONS IN QATAR.